#6 - Hand-Written and Drawn Emails and Blog Posts?
As you can see, I am experimenting with hand-written emails and blog posts. I haven't seen anyone else try this even though email is so suitable for this!
If you've ever tried to make something for WebToons, you know that these long, vertical scrolling comics are just a sequence of images that give the illusion of a long, long vertical image. This, you can easily do in an email too. Or in a blog post.
Is the example above a "comic"? Strictly, it is sequential art: images and text in a specific order that together tell a story. But this is more non-fiction than fiction. So what?
I think this could work for blogs, or art tutorials! You get to write and add illustrations inline. It provides a lot of flexibility. I want to try this out the coming period: art tutorials and inspiration, hand-written.
There are many examples of beautiful letters that artists sent to friends, with beautiful sketches added in the letters.Maybe that could come back in the form of artists' emails? Maybe even the digital equivalent of zines?
There's a lot happening at the moment, artists are really looking around for alternatives to social media platforms like Twitter and Instagram. I knew a year ago that Instagram wouldn't last and that the platform would disappear under my feet. Hence this newsletter. At least it arrives in the mailboxes of people who are interested.I am trying YouTube too. It's a lot of fun. But the newsletter thing really seems to be taking off at the moment. I am seeing Substack newsletters from New Yorker cartoonists, I am seeing Substack giving big name writers in comics huge grants to start newsletters.
The New Yorker Cartoonists are already stuffing their newsletters with art. The comics writers, not so much yet. Maybe Substack should, you know, give artists a six-figure grant to make a drawn newsletter for a year. (Substack, if you're reading this...).
It's a whole new canvas you can draw on! The fact that it takes on the form of a very, very tall image which people scroll down through vertically means that, compositionally, you have to guide the eye through the image vertically, like a skier skiing down a snowy slope. People making webcomics on WebToons have already learned to work this way.
As it's digital, and as pixels are free—as opposed to print, where printing every square millimeter costs money—you can use as much white space as you want to leave places where the eye can rest and your art can breathe, focusing also on the shapes and negative spaces created.
You can intersperse art and text in novel new ways, draw lots of different types of lettering. The sky is the limit, really!
One thing I noticed is that it is hard to share from a newsletter to social media. I tend to share cartoons I find funny on Twitter, and so when I see a funny cartoon in a newsletter, I instinctively go for the share button ... and there is none.
Could this be a new way for us to blog, to share knowledge and stories?
My Favorite Drawing Exercises
Why don't you try this yourself? Take a few sheets of printer paper and cut them in half along the length so you have long, narrow sheets of paper.
Now put them one below the other, and try to create a narrative of some sort using illustrations and text to guide the eye down. You can also scan these and then stack them one above the other digitally, in a blog or newsletter so people can read by scrolling down.
It is fun and forces you to look at composition differently. Try it out!
Related
Here is Substack for Comic Book Creators landing page that presents the case for comic book creators. I think email could be perfect for long, vertical comics—I might do some long vertical tutorials on here in the future! I think comic book creators are using the platform now because social media has become so bad because of the algorithms. And with a newsletter, you have control. You own the list with contact info of people who like your work, and you can take your publication to another platform.
Here are some examples of what vertical comics can look like.
Webtoons has a ton of vertical-scrolling comics content that was really designed for it. You can experiment with your comic there. It is easier than designing a comic book page in a way because you are just leading the eye downward along the page. You post single images which the platform stacks one above the other.
Tapastic does the same thing.
And Boulet ! That you don't need such a platform to do vertical scrolling—the internet was positively designed for vertical scrolling, all of it, the news articles, email, everything—and that you can just do it on a personal blog and be successful also was proven by one of my favorite comics creators, Boulet .
Here's great SubStack post by Molly Knox Ostertag where she does the comic-in-a-newsletter thing and it looks amazing!
Here's a tremendous letter by Ronald Searle! :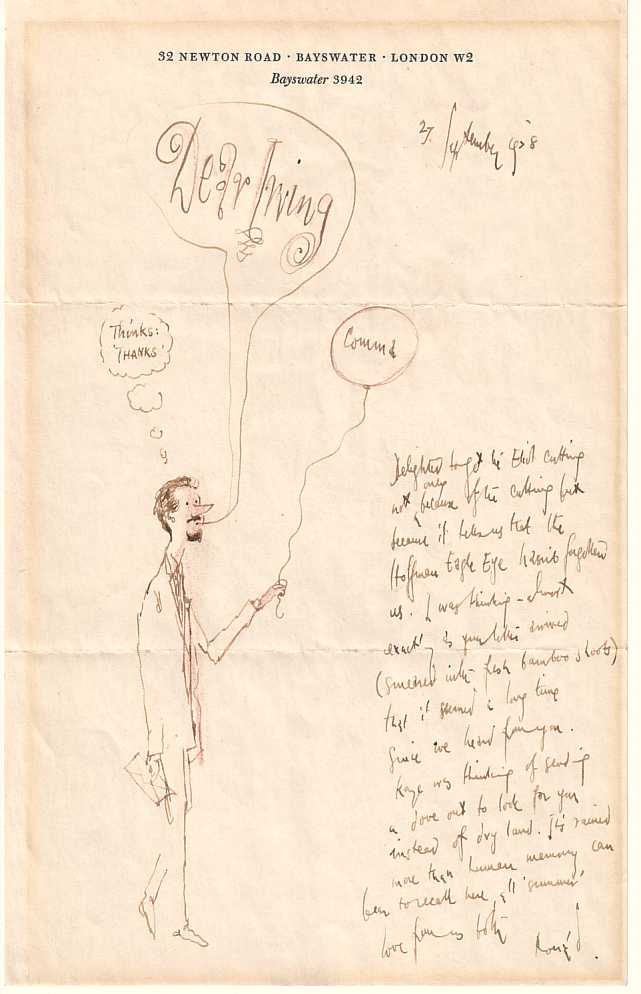 Imagine if you had received that gorgeous piece of art...
Wouldn't it be wonderful if we could send each other letters like these, in digital form maybe even?
Previous article: #5 - Some Thoughts On Story Illustrations
Practice Drawing This
Click on the image to go through the drawing steps.
Previous article:
#5 - Some Thoughts On Story Illustrations